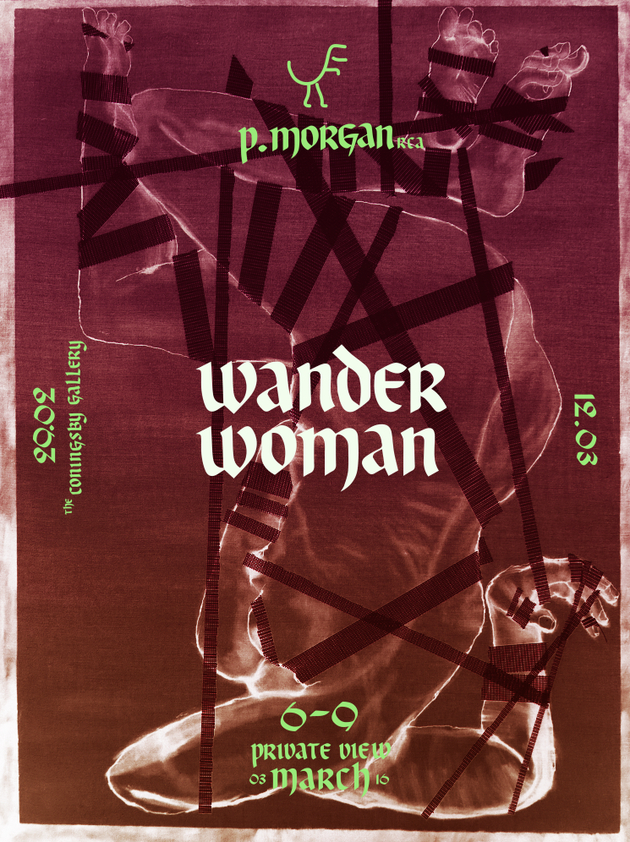 Début Art is proud to announce the up-coming exhibition of Patrick Morgan: Wanderwoman, which will be held at the Coningsby Gallery from 29 February 2016–12 March 2016.
Wanderwoman is an exhibition which discusses, disrupts and responds to today's digital female nomad, who travels without moving. The work looks across the spectrum of process and narrative to discuss the construct of the digital native; the world is bigger but personal ownership has evolved into an excess of super expensive materialism. The digital nomad tries to break free of capitalism to create an environment from limited resources, combining both analogue and digital processes to make a multifunctional art. From sculpture to product, the concept can be rearranged or dissembled to become a rug or a wearable wrap.
The work analyses the female figure who is trying to locate and understand not only what women want, but the world in which they are immersed. From being a housewife to a single mother or a working professional, women today are rejecting the roles expected of them in order to branch out and make new waves.
As Marshall McLuhan stated "Art is anything you can get away with". The artworks are made using products purchased from hardware stores and 99p shops: a common place for common people trying to survive in market saturated with design objects from the cheap and nasty to the uber creative. The process of making has been resourceful and multifunctional, combining all skills from needlework craftsmanship to digital animation in the form of PSDs and GIFs, created in low-tech animation software.
Royal Academy-trained Patrick Morgan has been working as a commercial artist for 15 years. This past year he has collaborated with Christian Dior in the draping back rooms (where the mastery really happens), designing the latest scarf range in response to Raf Simons' first collection at Dior. Additionally, he worked with Tom Ford for Justin Timberlake's world tour and with Cameron Diaz, designing and illustrating her latest book. Morgan has also previously worked with David Bamber at Tom Ford on specialist projects such as Ballet Russe's 'Firebird', which was subsequently presented at the Olympics.
The work presented in this exhibition is a real departure from Patrick's usual practice, a step into new unknown territory expanding his work in the field of art and design. You will still be able to enjoy his portrait work created for the Financial Times, where he lunches with the likes of Grace Coddington to Peter Merino, or his previous work with Mariella Fostrup for the Observer, lunching with Stella Mccartney OBE/Jo Brand/ Simon Schama CBE and Ruth Rogers. Patrick has also received portrait commissions from Franca Sozzani, Muccia Prada, Grace Coddington, Tom Dixon, David Bowie and many more celebrity icons, and most recently with Christophe Waltz for the James Bond film 'Spectre'.
29 February - 12 March 2016
Open: Monday - Saturday 10.00 am - 7.00 pm
Sunday 11.00 am - 5.00 pm
"Art is anything you can get away with." Marshal McLuhan
"We become what we behold. We shape our tools and then our tools shape us". Marshall McLuhan
To all of Patrick's fabulous work click through to his portfolio click HERE