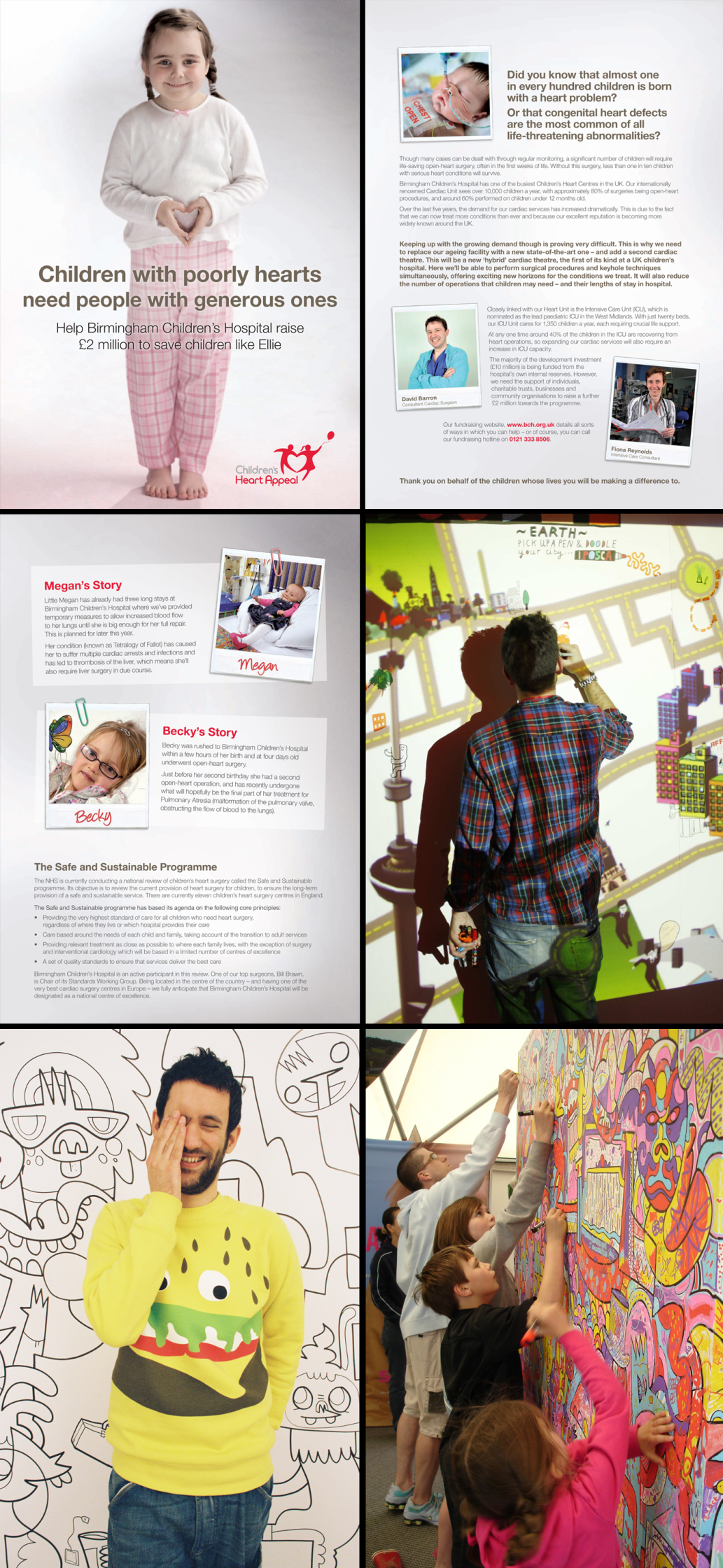 WE NEED YOU to help the Birmingham Children's Hospital raise £2 million pounds to create the most advanced cardiac unit for children in the UK.

Début Art have teamed up with the hospital to put on a week-long Family Art Festival starting April 12 at the Bullring in Birmingham city centre, and finishing Sunday 18th April. With 4 Début Art illustrators doodling all week.

The new 'hybrid' theatre will allow different procedures to be carried out on the same patient, in the same room, at the same time. Meaning more patients/children can be treated.

In addition to increasing the number of patients that can be cared for, the new hybrid theatre will cut down the number of operations children often face. This means less stress on them and their families and less time in hospital, freeing up capacity for others.

With some of the money raised also being used to increase the number of intensive care unit beds available in the hospital from the current 20 to 31. Which in turn will reduce the need to send children to other hospitals. A good thing for sure right?

Celyn, Harry Malt, Jon Burgerman and Serge Seidlitz will be creating giant, heart-themed canvases live. Each artist will be drawing the outlines with visitors to the Festival getting involved colouring it in and maybe even getting to draw on a fireman or two.

The event starts on the 12th and Jon Burgerman will be there on the Monday, Harry Malt Tuesday and Wednesday, Celyn Thursday and Friday and Serge Seidlitz will be there for the weekend.

Our buddies at POSCA have very very kindly donated all the pens. The POSCA water-based marker range gives vibrant colours that are perfect for eye-catching designs that hog the limelight without fading in it. POSCA pens produce opaque, vibrant colour and can write on paper, plastic, glass and fabric. Used by artists all over the world they are perfect for creating unique attention-grabbing designs, illustrations and posters.

So... if you're up that way or know anyone that is please do get them to go along and support the Début Art guys and help them raise money for this worthy charity.

LINKS TO CHECK:

Donate NOW - Birmingham Children's Hospital direct donations

Celyn's portfolio

Harry Malt's portfolio

Jon Burgerman's portfolio

Serge Seidlitz's portfolio

Our Flickr for updates, we've created a set just for this project. Check here - Flickr.com/photos/debutart

Début Art's Twitter - twitter.com/debutart

POSCA's Twitter - twitter.com/uni_posca

See you there.