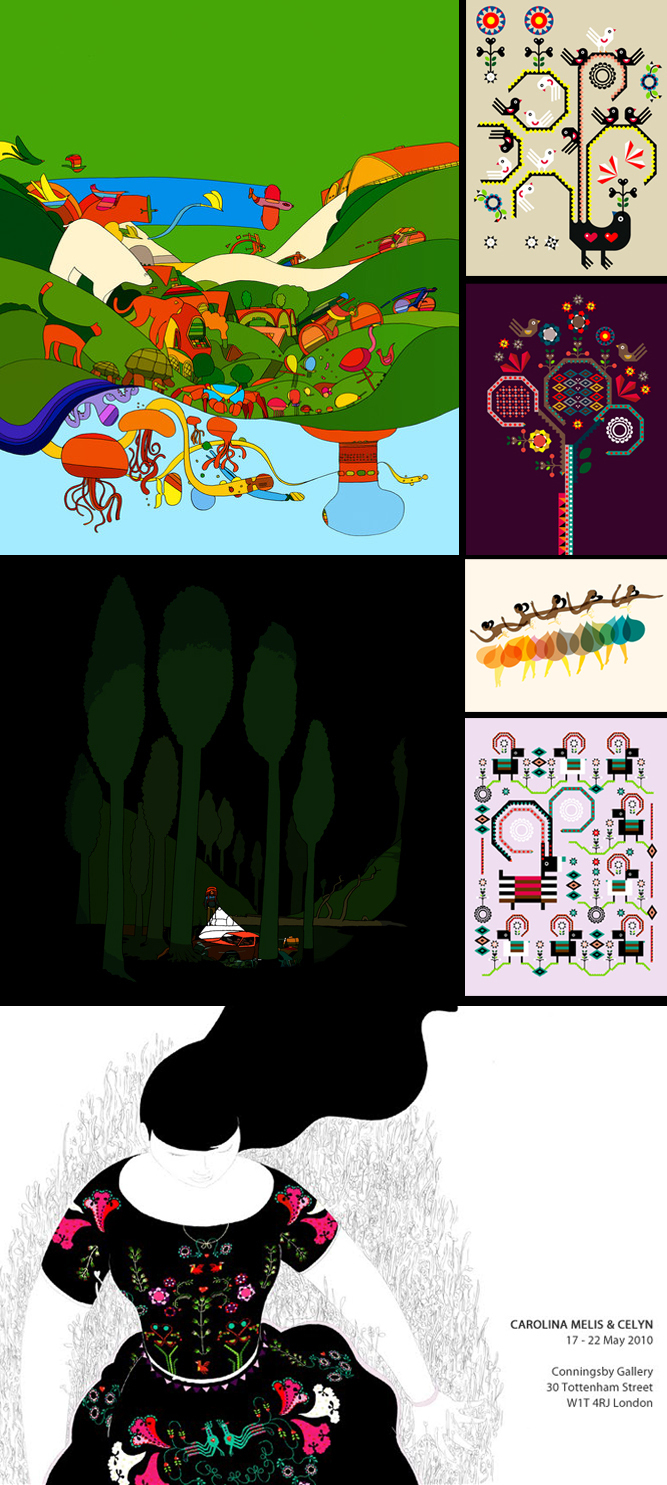 Carolina Melis and Celyn are having a show right here at The Coningsby Gallery.

Exhibition dates: Monday, 17th May – 6.00pm Saturday, 22nd May.

Private View: Tuesday, 18th May. 6pm-9pm.

CAROLINA MELIS – www.carolinamelis.com

Originally from Italy, Carolina Melis moved to the UK to continue her training in dance and choreography studying at London Contemporary Dance School and Dartington College of Arts. During her career in the dance world she developed an interest in film and design that led to an Master at Central St. Martins where she specialised in animation and illustration.

Since 2005 Carolina Melis has working directing music videos for Vladislav Delay, Efterklang, Four Tet, Metronomy, and Coleen alongside commercials for major clients.

Beside her career as director Carolina is also an internationally known illustrator and art director. In the past years she worked in a close connection with the fashion world working in collaboration with brands such as LeSportSac, Sessun, Max Mara, and magazines such as Vogue, Tank and Specialten.

Her work, greatly informed by her background in choreography, explores ideas of delicacy, organic development, life-cycles and living relationships, yielding elegantly tragic pieces with a subtle romance.

Carolina is currently working on a animated dance film called Le Fiamme di Nule commissioned by the Institute of Ethnography of Sardinia due to be completed in August 2010.


CELYN BRAZIER - www.debutart.com/artist/celyn

I always start on paper. I like thin layout paper and a fine line pencil. There is something ethereal and delicate about the process of drawing in this way. Most of my ink lines are in fact pencil lines re-purposed digitally, the line is usually converted to a black line once I've finished with the artwork on paper. I don't often draw the images you see here directly from life or use reference material. I do always start with a person or a place in mind. I make a lot of observational drawing to begin the process or perhaps a little freeform sketching in my sketchbook.

My challenge to myself is to make a narrative that extends beyond the frame. I have discovered a way of working by accident really, I work in animation and have to design with this in mind. I then discovered this method of storytelling in key frames makes a satisfying way of creating pictures that stand alone. I started my career creating short animations and cartoons, I still direct animation and many ideas that start life as pictures are intended to inspire an animated idea or compliment one. The continuing thread of a story is always important and never far away.

My artwork has been through some changes and I hope in 10 years time it will look totally different from how it looks right now. I'd like to integrate animation within the gallery framework too. I'd like also to reclaim some of that 'cartooniness' that my old work has and combine it with the more allegorical work I've been doing lately. I don't usually enjoy my work when it gets formulaic. I think the actual reason that I started drawing with a pencil was that the ink pens I drew with became too reliable, they became too familiar and easy. More recently I've been working completely without the line at all. The work for the Leverton Fox CD is personally one of my favourite pictures and design projects. I started the process as a desire to reflect the freeform and experimental nature of the music, this approach really got me into a new way of working. The forms of trees and landscapes were designed sculpturally in coloured crayon and paint, the landscape was constructed as a painting on paper.

During the private view, www.londonsnorkellingteam.com will be playing music they imagine may have happened some time in the 1950s, perhaps at a cocktail party for experimental scientists with a fascination for cartoons. The composition of the music has also involved the creation of an imaginary town in which this music plays an important part of local life.

So.... come on down and say hello. Will be an excellent show. RSVP via email.