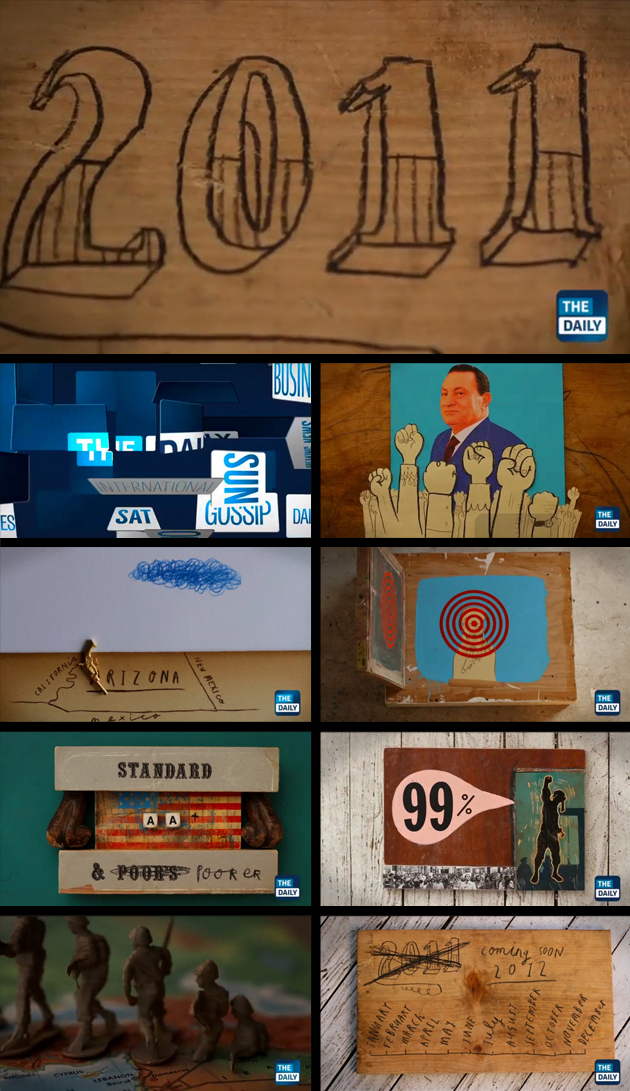 Happy new year folks, and welcome to 2012.

Long time collaborators, and studio buddies, Mac Premo & Oliver Jeffers were commissioned by the folks at iPad magazine The Daily to create this beautiful stop motion animation for The Daily's review of the year 2011. Stills can be seen above.

Regarding the process, and mainly in Mac's words here.... Oliver Jeffers and Mac Premo compiled a list of "those events so pertinent as to be relevant to the fabric of shared existence, so absurd as to remind us of the fragility of said fabric, or some intriguing place in between."

Mac Premo then solicited the extraordinary talents of his wife, Adrianna Dufay, and recorded a voiceover headlining each story, using that as a structure for the video. From there, Oliver Jeffers and Mac went to work, making a video / visual / animated / moving illustration image that illustrates the year in review according to the following 2 rules:

1) "The path of least resistance between our collective brain and the idea we are communicating."

2) "The path of most straightforward aesthetic responsibility to the communication of that idea."

After shooting all hand drawn, and collaged elements, Mac edited the video to the voiceover. With Oliver and Mac filling in the holes with some random things to throw and scrape, + of course the sound effects.

To download The Daily, hit this link direct to iTunes and look out for more collaborations between Mac & Oliver over the coming year.

To see more of Mac Premo's collage/print work click here or to see more of Mac Premo's videos click here.

Then... to see more of Oliver Jeffer's illustration work click here.